SOTA.Finance: A Truly Decentralized NFT Platform For Creating, Staking, and Selling Your Artwork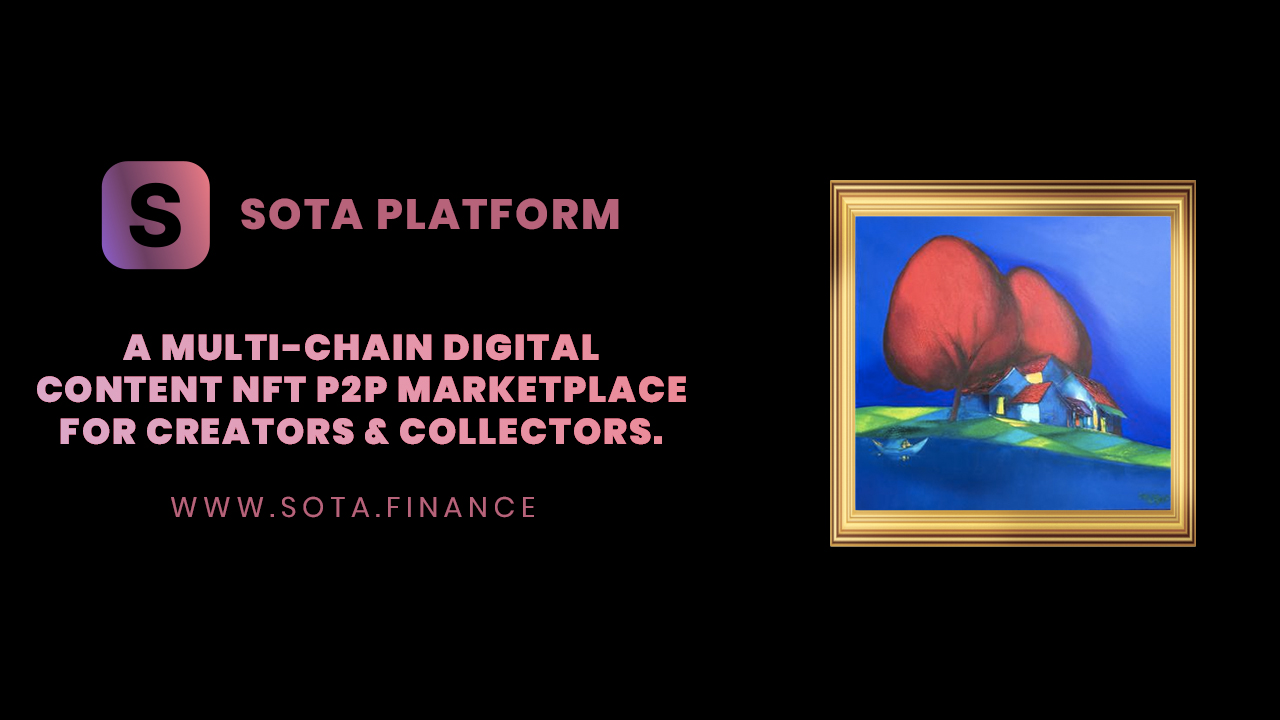 Non-Fungible Tokens aka NFT's are not a new concept and they were first introduced in 2018, but it became a worldwide phenomenon in 2021. Celebrities from all walks of life have joined the trend from digital artists, sports stars, Hollywood celebrities, and pop stars. They all have found NFT's to be the most convenient and popular way of selling their work on legitimately via blockchain. This year digital artist Beeple's art was sold for a whopping $69 million, making his the highest paid living artist for one piece of artwork.
Popular sports leagues from Football, basketball, and Soccer were already using NFT for fan art and fan tokens to bring better fan engagement. With the advent of NFT mania now these NFT tokens have gone beyond just being an engagement token. As the demand for NFT tokens grow, platforms used to sell have soared as well, SOTA Finance has come up with a decentralized all-in-one NFT platform where users and artists can easily create NFT for their real-world art and also the ability to auction and sell it without ever having to leave the platform.
Sota recently partnered with one of the leading blockchain ecosystems in the world Huobi which will allow the platform to directly integrate with Huobi's native blockchain HECO. The partnership would have numerous benefits including ease of issuing tokens on the Heco chain. Some of the key features include,
The SOTA Marketplace will support NFTs issued on the HECO Chain.
There will be a bridge to swap $SOTA Tokens to the HECO Chain.
Sota Finance Ltd. will also integrate other coming soon products (NFTA auctions and loans for NFTS, Launchpad…) to the HECO Chain Ecosystem.
$SOTA Token staking is required to participate in NFTA and other token IDEOS on the Launchpad.
SOTA finance is a decentralized platform that brings together NFT creators and collectors. In other words, it facilitates NFT creation, selling, and buying. Additionally, it has a governance token that allows users to have a say in how the platform is run. Notably, this is among the few firsts in NFT marketplaces.
SOTA is First Fully Operational NFT Platform on BSC and the first to Partner with HECO
Sota boasts of being the first NFT platform with cross-chain support to the highly popular in-demand BSC network as well as Huobi's native chain HECO. The SOTA was deployed in early February this year and has garnered an amazing community response motivating the firm to bring in more resources to the platform.
SOTA is an inter-blockchain platform allowing NFT creation on Binance Chain, Ethereum, and TomoChain.
As quoted by one of the most popular YouTube influencers, Boxmining said "SOTA is a place for SERIOUS NFT collectors and offers low gas fees for creating your artworks."
SOTA platform can be used by all kinds of artists and fan collectors with the key functions of the platform being:
NFT Creation:
The inter-chain platform is accessible to one and all where creators define key metrics such as how many NFTs will exist and the expected royalties when their creations are sold on secondary markets.
The platform runs verified accounts that recognize creators as the original owners. However, creators have to explicitly apply for this type of account. Whether or not SOTA administrators grant their request depends on a creator's profile on the network. In case of a copyright violation, users can use the inbuilt "report" feature to bring it to the attention of the platform's admins.
NFT Collection:
After creating, it's time for collecting. SOTA Finance users can freely trade non-fungible tokens directly on the platform. Notably, buying and selling attract a flat fee of 2.5 percent. Although NFT prices are set in USDT, users can still use other cryptocurrencies such as Ethereum (ETH) and Bitcoin (BTC) to make a purchase.
NFT Farming:
SOTA enables users to stake the network's base currency, SOTA, to earn rewards. Staking the native coin earns stakers Pumpkin points. Apart from users, creators can join hands and provide NFTs for farming purposes. In such a scenario, the number of NFTs dedicated to staking is set during creation.
NFTA: The Cross-Chain Auction and Loaning Platform for NFTs
NFTA would act as the cross-chain auction marketplace for NFT creators on the Sota blockchain. It offers P2P NFT auction and loan services, with a focus on high-value content NFTs. The platform will start in Phase 1 with NFTs issued on the HECO Chain. In later phases, it will extend to accept NFTs from other blockchains.
There are currently a few available markets that provide NFT auction services. However, different from usual NFT markets where NFTs are listed and traded easily, it takes a lot more selection and preparation processes to execute NFT auctions. As a result, only a small part of the user needs, both NFT owners and buyers, are being addressed.
NFT collectibles tend to have relatively low liquidity. Owners want to hold the NFTs for long-term value accumulation and wait for the right deal before reselling them. However, that means the owners' fund is stuck with the NFTs. This is where NFTA offers a breakthrough solution for the liquidity hurdles, quite similar to real assets that can be used as collaterals for funding, NFTs on the platform can be used to support the owners to get loans by depositing the NFTs as collateral.
To know more about SOTA Platform visit https://sota.finance/
For more updates :
Twitter : https://twitter.com/sotaNFTs
Telegram : https://t.me/sotaNFTer
Facebook : https://www.facebook.com/sota.finance