NuriFootBall(NRFB) Introduction and Airdrop Events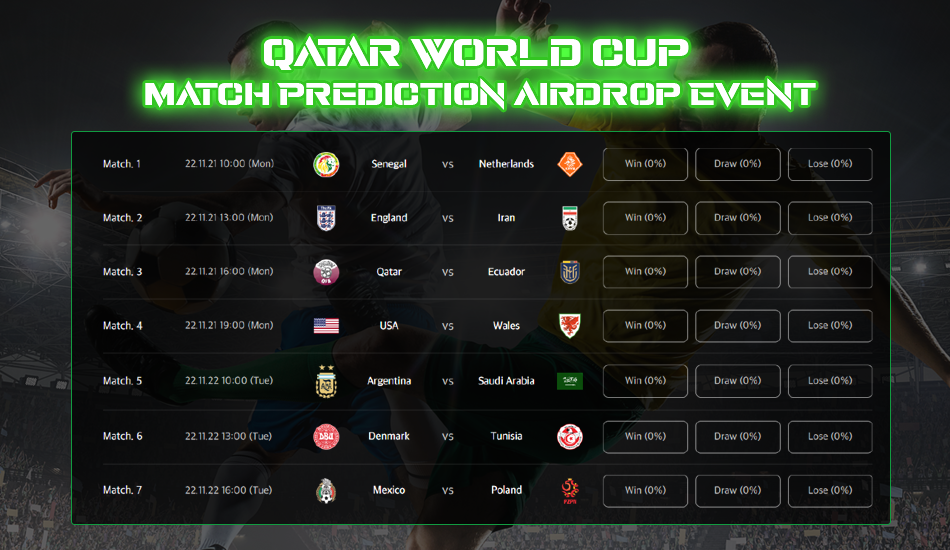 Project Name: (Token) NuriFootBall (NRFB)
Token Standard: ERC20
Listed exchange: Gate.io / LBank
Introduction
Nuri Football (NRFB) is a football-related blockchain platform service, made by Nuri Football Team. Nuri Football aims to apply blockchain technology to a variety of services related to football online and offline. Furthermore, Nuri Football currently provides not only match result prediction, but also diverse NFT products and the NFT Market place. And we are ultimately aiming to launch high-quality football-related games which are based on Metaverse and NFT to make the platform easily accessible to the general public.
Highlights
P2E Nuri Metaverse Game – Nurifootball Meta league is P2E soccer game based on NFT. Users can enjoy a variety of content such as club management, game simulation, and web commerce, and NRFB tokens are applied as key currencies used within the ecosystems.
NFT – Nurifootball Players NFT cards have 8 classes of grade from Basic to Goat. Basically, NFT cards can be obtained by drawing a random box or purchasing from users in Nuri NFT Market Place. Users should purchase a random box that allows them to obtain players above normal grade using NRFB.
Match Prediction – Users who deposit more than a certain amount of NRFB tokens can participate in Nuri Match Prediction. Users can participate in match prediction for actual matches such as EPL, La Liga, UEFA Champions League, Europa League, etc. When users successfully predict the results of the major games, NRFB or FB points will be provided.
Token Utilities
The NRFB Token is a digital asset in the Nuri Football ecosystem. NRFB Tokens have multiple uses in various areas of the Nuri Football ecosystem, such as payments in DApp, stadium rentals, related media operations, and advertising, sponsorship, support management, and youth development.
The NRFB Token is a means of purchasing FB Points and can also be exchanged with FB Points acquired from DApp.
The NRFB Token is a real-life-linked token that can be used in the ecosystem as a medium for experiencing the past, present, and future of one's life related to football as an individual and as a group.
<Ongoing Event>
"NRFB TEAM has gone INSANE, and we are going to hold the BIGGEST EVENT for QATAR WORLD CUP
NURIFOOTBALL (NRFB) Token AIRDROP
We are dropping a total of 700,000 NRFB tokens! THIS IS WORTH APPROX $10,000
Please make sure to complete all the tasks required to be qualified for a Winner Spot!
In order to be QUALIFIED for a WINNER SPOT, MAKE SURE TO JOIN THE MATCH PREDICTION EVENT (https://nurifootball.io/predict/main/)
Connect to your META MASK and select your PREDICTION. PREDICTIONS ARE for FREE for NOW
Total of 700,000 NRFB Token Airdrop RANDOMLY to 7 WINNERS"
Users can get limited World Cup player NFT cards by participating in Nuri World Cup Meta League.
OVR of World Cup Player NFT cards is set higher than World Class NFT.
How to participate in the event
Go to https://nurifootball.io/ and sign up.
Like and retweet the 2022 Qatar World Cup Meta League NRFB Airdrop Event uploaded on Nuri Football's official Twitter account. (https://twitter.com/NuRiFootBall_/status/1589506489341083649 )
Screenshot the twitter post you clicked like and share it with your ID of Nurifootball website on Nuri Football's official Telegram. (https://t.me/Nurifootball_Eng)
Gleam: https://gleam.io/84Km9/nrfb-token-airdrop-event
The airdrop reward will be distributed to the meta mask wallet address used for match prediction
NuriFootball's next event is scheduled for next week.
Website: https://nurifootball.io/
Twitter: https://twitter.com/NuRiFootBall_
Telegram: https://t.me/Nurifootball_Eng
Medium: https://medium.com/@Nurifootball