FameEX launches Global Affiliate Program, offering an attractive rebate ratio of up to 90% and an exceptional commission system
FameEX, a global and secure cryptocurrency exchange, is widely regarded as one of the best affiliate programs in the crypto industry, launches Global Affiliate Program, offering an attractive rebate ratio of up to 90% and an exceptional commission system. As part of their commitment to providing unmatched value to their members, the FameEX Global Agent Program now offers the potential to earn up to 2000 USDT per month with no minimum requirements to start earning. The program's fixed commission rate is calculated per invitee per week with each tier cumulatively calculated to ensure members' earnings increase rapidly.
For those with sizable followers that share a similar passion for cryptocurrencies, crypto affiliate programs present an attractive opportunity to recommend products or services to their audience. By promoting crypto-related platforms and applications to their followers, they can earn a recurring revenue stream, potentially ensuring sustained profitability as content creators. Whether you are an experienced affiliate marketer or new to the field, this article offers an overview of the top crypto affiliate programs currently available. Additionally, the article provides valuable guidance on essential factors to consider when selecting the most suitable crypto affiliate program to meet your specific needs.
Exploring Crypto Affiliate Programs
Crypto exchanges typically offer crypto affiliate programs to budding affiliate influencers or content creators, enabling them to earn profits by sharing a referral link with their audience to visit a specific crypto website or platform. As part of the partnership, affiliate influencers and content creators who promote these crypto websites or platforms can receive a variety of benefits in addition to a small kickback. While some affiliate programs may be generic, they can also incentivize specific actions and encourage users who click on the affiliate links to become more engaged. Each key user action from fully setting up an account with the required identification details to trading can result in different ratio commissions in different exchanges.
Inside Look: How a Crypto Affiliate Program Works?
Affiliate programs are a popular tool that crypto exchanges use to expand their customer base and boost sales. By harnessing the growth potential of an affiliate network, these exchanges have the ability to significantly boost their trading volume. Influential cryptocurrency affiliates can easily join a new program and begin generating recurring revenue by incorporating their personalized referral links into their social platforms. The earning model of each affiliate program varies – some offer commissions based on user trading activity while others offer commissions for sign-ups. Despite these differences, the ultimate objective remains the same – to create a reliable stream of revenue.
Comparison Between Different Crypto Affiliate Programs
When looking for the right crypto affiliate program to partner with, several essential factors should be taken into account. Among the most crucial factors is the affiliate cut, which can vary between different programs and be offered as an upfront sign-up bonus or a lifetime commission based on user transactions. Reputation and support are also critical, with some platforms providing account managers to offer guidance and assistance to affiliate marketers. Security and data privacy are vital considerations, with top programs offering features like multi-factor authentication and KYC regulations to ensure user safety. By carefully weighing these factors, affiliate influencers can choose the right program that meets their needs and maximizes their earning potential.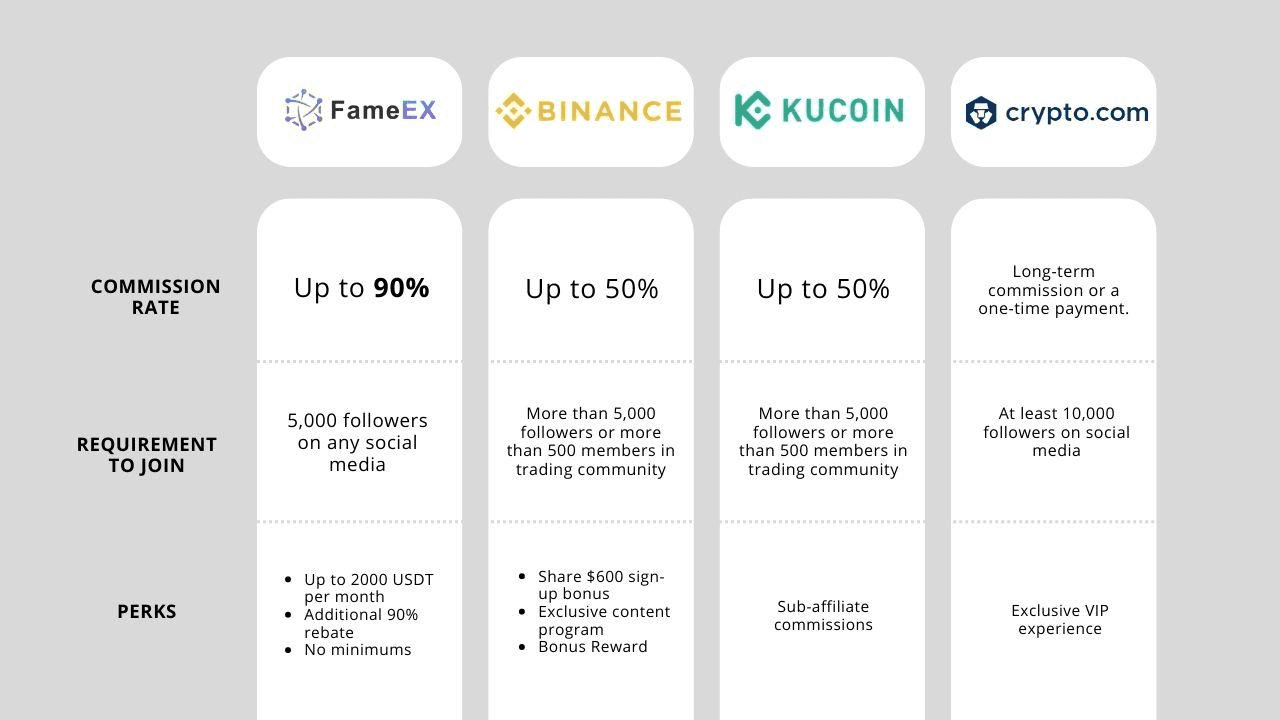 FameEX offers a commission rate of 90% to recruit global influencers and content creators as agents of its trading community. The program is open to individuals with a social media following of 5000 or more, and FameEX provides an affiliate-friendly interface to make partnership easy. Partners can access rebate data and analytics insights to enhance their conversion rates. This program encourages interested individuals to join and collaborate to build the trading community together. By providing this enticing affiliate offer, FameEX aims to co-build a thriving crypto trading ecosystem with the entire crypto community.
Binance Affiliate Program
Binance, a major centralized exchange, offers a crypto affiliates program with a wide range of products for affiliates to promote, including Binance Pool, NFTs, Liquid Swaps, Spot, Futures, and margin trading. The program is suitable for affiliates with an active trading community, but eligibility criteria can be stringent, requiring a social media following of at least 500 active traders in their community. Once approved, affiliates receive a unique link to share with their audience and earn substantial rewards.
Kucoin Affiliate Program
The KuCoin Affiliate Program has been recognized as the top crypto affiliate program due to its high commissions. Since its establishment, the program has paid out more than 50 million USDT to 16,000 affiliates worldwide, which can be attributed to KuCoin's proactive approach to recruiting potential affiliates. The program operates on a tiered reward system where higher trading volumes and more valid referrals result in commissions of up to 50%. However, despite the attractive commission rates, KuCoin imposes strict quarterly assessments. If an affiliate fails to meet the minimum Level 1 requirements for two consecutive cycles, their commission rates will be temporarily reduced to 0% until they can exceed the assessment requirements in the following cycle.
Crypto.com Affiliate Program
In addition to its crypto debit card, Crypto.com has partnered with high-profile brands such as UFC, Formula 1, and Paris Saint-Germain F.C, offering an affiliate program that provides exclusive VIP fan experiences, making it an attractive option for content creators seeking unique brand experiences. The program's commission structure allows affiliates to choose between long-term commission payments or one-time incentives, with a minimum requirement of 10,000 social media followers to qualify for the program.
FameEX is a cryptocurrency exchange that provides an affiliate program with a commission rate of up to 90% for global partners with a social media following of 5000 or more. The program aims to co-build a thriving crypto trading ecosystem with its members and offers an attractive commission system with no minimum requirements. If you are interested in becoming a part of the FameEX Global Agent program, you may apply by following the link: https://www.fameex.com/en-US/rewards/affiliates
About FameEX
Launched in 2020. FameEX is a global cryptocurrency exchange that currently provides fiat-crypto, crypto-crypto, grid trading, futures, options, margin, spot and a hugely popular referral and affiliate program. With more than 300,000 users across 50 countries and regions. FameEX provides a secure, stable and efficient 24/7 trading platform.
Currently, FameEX is undergoing rapid expansion of the user base and is a reliable crypto exchange broker which operates under a policy of transparency and fairness. Moreover, the trading platform offers a high level of sophistication, with plenty of engaging trade choices to help traders accomplish their goals.
In addition, FameEX keeps pushing the boundaries of the crypto exchange industry, exploring frontier growth opportunities and strengthening core competencies, expanding into adjacent product offerings and developing innovative business models that lead the way in bringing Web3 solutions into the crypto ecosystem including recruiting more Web3 developers and researchers to enrich the Web3 product that will support those visionary traders.
Find FameEX on:
Website: https://www.fameex.com/
Twitter: https://twitter.com/FameEXGlobal
YouTube: https://www.youtube.com/c/FameEX
Telegram: https://t.me/fameexgroup
Discord: https://discord.gg/V8yvKPxVCk
Trade on-the-go with the FameEX app (iOS/Android)