Bitcoin Tanks Below USD 8,000, Only 4 Cryptos Among Top 100 in Green
The crypto market dropped on Tuesday night (UTC time) suddenly, losing almost 8.55% of its value.
The average price of bitcoin almost touched USD 7,900 before recovering above USD 8,000. However, at pixel time (04:00 UTC), the most popular cryptocurrency trades below USD 8,000 again. Its price stands at around USD 7,986, or 8% less than 24 hours ago.
Bitcoin price chart:

Other coins from the top 10 are down around 7%-12%, while bitcoin sv fluctuates among the red and green zones and is the only coin that kept its weekly gains.
Watch the latest reports by Block TV.
Top 10 coins by market capitalization.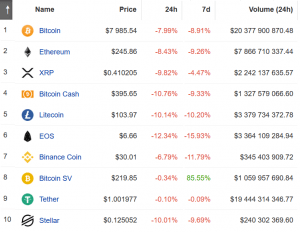 Among the top 100 tokens by market capitalization, only Aurora, Metaverse ETP, Zlliqa and Cosmos are in green, registering 2%-5% gains.
The total market capitalization stands at USD 253.9 billion and is down by 8.55%, while bitcoin dominance, or the percentage of the total market capitalization, remained almost unchanged at 55%.